An explanation of what maintenance windows are, when you can expect them, and why they are used
Your AngelTrack cloud server is available 24 hours a day, 7 days a week, 365 days a year. To ensure that it is always available to you, its health is monitored continuously, and its regular maintenance is rigorously performed.
When your cloud server requires maintenance or a hardware or software upgrade, it might be necessary to interrupt your AngelTrack service. Such interruptions are scheduled to occur during specific windows of time, so as to minimize the impact on your operation and help you plan for (or avoid) them.
Examples of maintenance
During a maintenance window, we perform the following types of maintenance on your AngelTrack cloud server:
Apply operating system patches, which usually require a reboot
Deploy a regular AngelTrack upgrade (refer to the list of AngelTrack releases to see what is included in these upgrades)
Perform database optimizations such as index defrag
Migrate your cloud server to a different blade
No action is required from you during these procedures; it is always handled for you by AngelTrack staff members who are dedicated with uptime.
Technical support is still available during this time
We promise 24/7/365 phone technical support, and that includes maintenance window hours. We are always here, should you need us.
Weekly Maintenance Window
Each week there is a two-hour maintenance window, opening early Sunday morning at 02:00 US Central Standard Time. During this window, your AngelTrack cloud server may become temporarily unavailable, if a restart is required to complete a software or hardware upgrade. If your work cannot be postponed, then save often.
That two hours is the period in which AngelTrack might be unavailable, not that it will be unavailable. Normally the weekly update causes just a few minutes' interruption.
When a maintenance window is approaching, all AngelTrack pages turn their top-ribbons orange, and display a blinking warning message: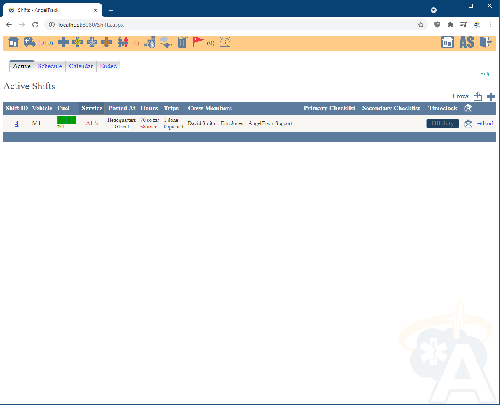 The warning turns from orange to red when the maintenance window is actually open.
Keep in mind, just because the cloud server could become temporarily unavailable doesn't mean it will. AngelTrack technicians always endeavor to perform upgrades and maintenance without interrupting service; a service interruption is done only when absolutely necessary.
Excluded from Uptime Guarantee
Your AngelTrack cloud server comes with a 99.999% uptime guarantee. This guarantee does not cover downtime that occurs during a maintenance window.