A short walkthrough of the achievement system
AngelTrack's achievement system works like those seen in modern videogames. Notable milestones in an employee's career -- for example, hitting 10,000 transport miles -- are called out with ribbons, displayed on the employee's home page for all to see.
Automatic Awards
Most achievements are awarded automatically, by AngelTrack using the data on hand. Automatic achievements are tallied once a day, and are also tallied whenever an employee visits the "Achievements" tab of their Employee Settings page.
The only achievements not automatically awarded are: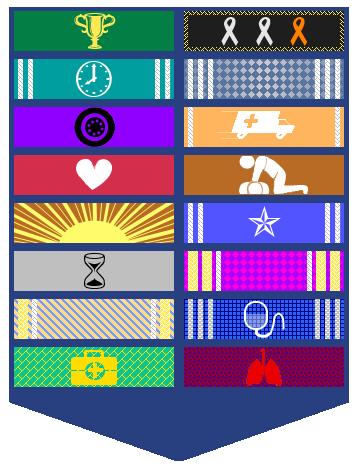 Guardian Angel award
Star of Life award
Critically Assist a BLS+ Crew award
Manually Granted Awards
As noted above, certain awards in AngelTrack are not awarded automatically; instead they must be granted by a supervisor, via the Employee Edit page.
Therefore, company policy decides what the awards mean. Perhaps the Guardian Angel award is for crews who, through devotion to their patients, notice and prevent something that would've otherwise endangered the patient's life. In any case, it's up to you to give meaning and gravitas to the awards.
Termination and Re-hire
When an employee terminates employment, but is then re-hired, most of their achievements are preserved. The following achievements are reset upon re-hire:
Years Employed
Months Since Last Absence
Months Without Incident
Send Us Your Ideas for New Achievements
AngelTrack developers are always interested in hearing new ideas for achievements... especially achievements that can be automatically awarded based on data in AngelTrack.
Don't hesitate to contact AngelTrack support to pitch your idea.